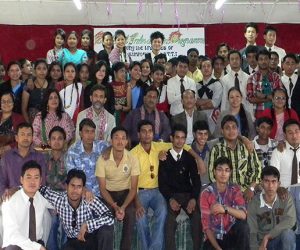 The name of the institution is DIET , Dakshin Dinajpur. Earliar the institution was known as Balurghat Jr. Basic Training Institution , which was established in the 1970. After that the institution was known as Balurghat  Govt PTTI & same institution was upgraded to The DIET Dakshin Dinajpur in the year 2006 (vide memo no:- 692……………………………….).
The DIET Dakshin Dinajpur is situated at the junction of the to Bangladesh border going roads. One of them is Balurghat to Chingishpur road via kamarpara other one is Balurghat to Hili (international Bangladesh Border). The distance of this DIET from Balurghat,District town of Dakshin  Dinajpur is about 15 km.
The DIET Dakshin Dinajpur has Two campuses which are 200mitr away from each other. The two campuses are :- i) Administrative Campuses, ii) Hostel Campuses. The Campuses have the following infrastruturual components :-
Administrative campuses
Administrative block(principal Room, office Room, Stuff Room, library Room, ICT lab, etc.
Seminar, Class Room blocks(Seminal Hall, Class Room, Night Guard Room, Students Common Room, Art & Craft Room etc .)
Staff Quarter Block,(3 block into 2 teacher accommodation).
In service Hostel (50ty Teacher Residential accommodation)
Water pump house.
Hostel Campus
Staff Quarter block (2*2 Teacher Accommodation )
Boys accommodation(4*20ty Students accommodation)
Girls Accommodation (2 blocks * 20ty Students accommodation)
Kitchen cum Dining Hall(100 Seats)
Water pump house.
From the time of the establishment of this DIET, The In- Service Teacher training, Survey work action research etc were going on except pre-service teacher training upto June 2012. But July 2012 onwards the Pre-Service teacher training was going on to till date to with the intake capacity of 50ty(Fifty).
Branches of DIET: 
PSTE (Pre-Service Teacher Education)
WE (Work Experience)
IFIC ( In-service programme, Field interactio0n, and Innovation Cordination)
DRU (District Resource Unit for AE &NFE)
CMDE (Curriculum, material development and evaluation).
ET (Educational Technology)
P & M ( Planning and Management)
Functions of DIET :
Training and Orientation of the following target group :
a).  School Teachers (PST & IST)
b). Headmasters, Head of the school complexesand Officers' of education department upto
Block Levels.
c). Instructors and supervisors of Adult Education and Non-formal Education.
d). Members of DBU, VEC, Community leader, Youth and other Volunteers who wish to work in educational activities.
e). Resource persons who will conduct suitable programmes fgor the target group mentioned (a) and (c).
Academic and Resource Support to the elementary and adult education system.
Action research and experimentation to deal with the specific problems of the district in achieving the objectives in the areas of elementary education and adult education.